NIGHTSEA Fluorescence Adapter for Keyence VHX Microscopes
(7)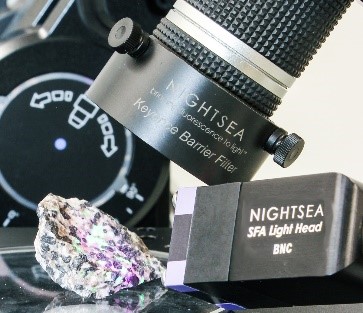 The NIGHTSEA Fluorescence Adapter system adds a versatile fluorescence imaging capability to the Keyence VHX series of digital microscopes including the models VHX-5000 and VHX-6000. The system is being used successfully by a growing number of Keyence users for a variety of applications.
Fluorescence solutions for Keyence Objectives
Keyence offers a variety of lenses for imaging at different magnifications. NIGHTSEA offers several variants of the fluorescence adapter system that work with the most commonly used Keyence lenses – the ZST, Z100, Z50, Z20, and Z00.
For the objectives VH-Z00, Z20, Z50 the emission filter is placed with a ring adapter on the bottom of the objective. The more advanced VH-Z100 and VH-ZST objectives have an Analyzer slot at the top of the objective into which a quality emission filter is inserted.
Further with the VH-ZST objective, the insertion of the NIGHTSEA excitation light into the optical pathway is possible with a special NIGHTSEA adapter for a focus spot of excitation light.
Detailed information can be found in the product descriptions.